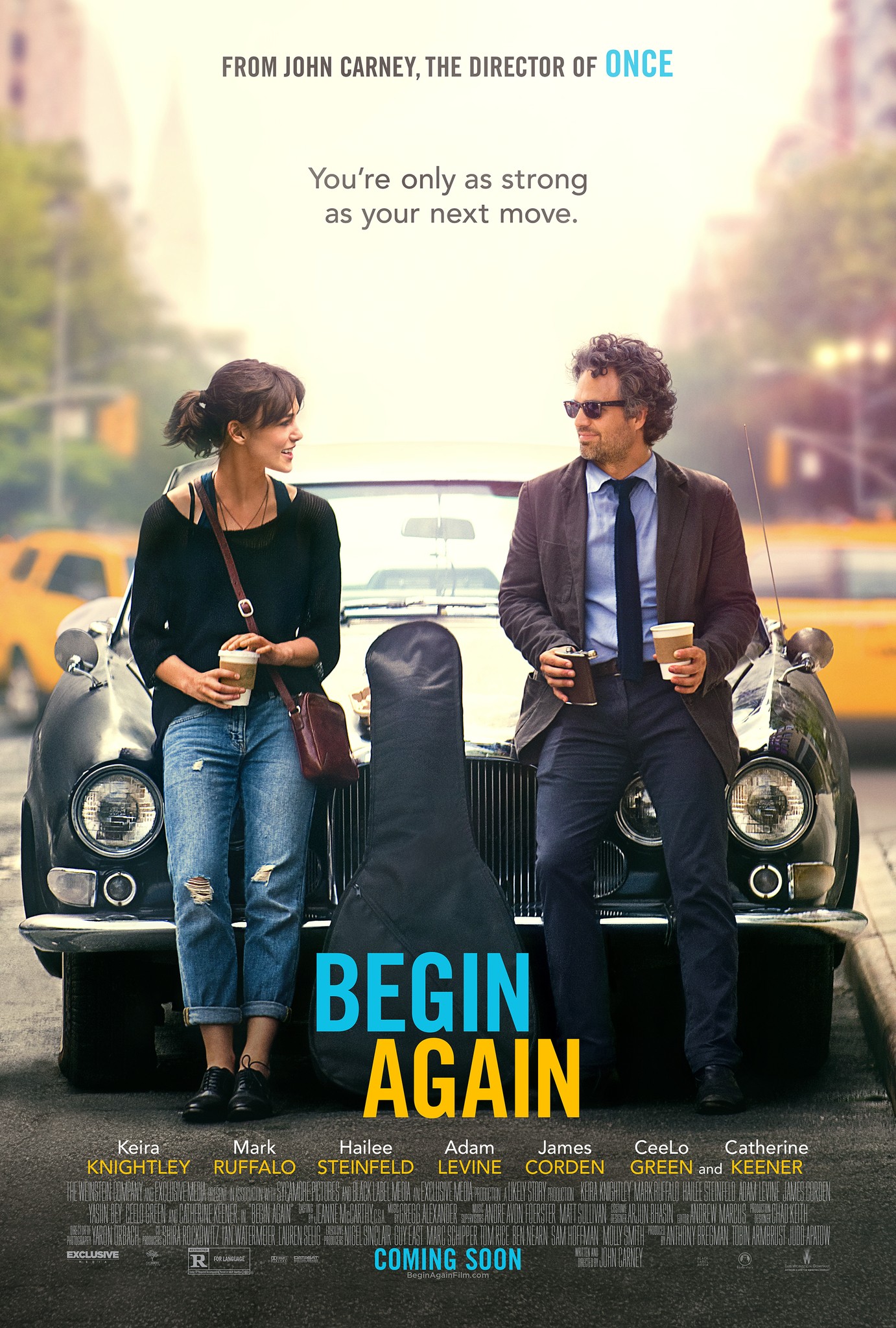 Synopsis:

A chance encounter between a disgraced music-business executive and a young singer-songwriter new to Manhattan turns into a promising collaboration between the two talents.
I didn't know about this movie when it came out. I don't even know if it was released here in Malaysia. I was just browsing for new movies to watch some weeks ago, and my interest was piqued by the synopsis. I readily admit that I love movies about music. Not the High School Musical kind, but the Fame and Once kind.
I acquired this movie some weeks ago, but I only managed to watch it tonight. Man, what a mistake it was.
For waiting too long to watch it.
Begin Again is about a young singer/songwriter from England (Keira Knightley) who followed her boyfriend (Adam Levine), who has just singed a major record deal, to New York. He gets caught up in the newfound fame and attention, and she leaves him when he betrays her trust. Her friend forces her to play a song at a small bar, where a music executive who's just lost his job (Mark Ruffalo) discovers her.
There's a stark contrast between the treatment given by a major record lable and a music executive who only has his passion left. There's also a stark contrast between a musician who's caught up in a tide of a corporation that's bent on selling a label, and another musician who's adamant about staying true to herself.
This is where the magic happens. The contrasts, they aren't shoved into your face; they are elegently subtle that you don't notice them at first. And when the contrasts click, oh how they click.
The movie starts slow, and it only takes off at the tent pole, the middle of the movie. Just like Once, however, it's the brilliant music that keeps the viewers' attention. The brilliant acting as well, but it's the music that makes this particular movie.
Not the songs, though they are a part of it.
The music.
Also, just like Once, the chemistry between the two main characters is so strong that we root for them, that we want something to happen between them. I won't give any spoilers, but the ending cannot be anymore perfect than it is.
This movie is not for everyone. Definitely not for everyone. And I won't shove it in your face. I do, however, recommend it to family and friends who ride on the same wavelength (on occasions) as I do, musically and artistically. Most important, however, Begin Again moved me. It has inspired me to be great at my own pace, in my own way.
It's been a long while since I was instantly moved by a book or a movie. I should have watched this movie the instant I acquired it. I should have stolen some time instead of being too busy to take time off for myself.
May more brilliance like Begin Again be shared with the whole world. Thank you, Mr John Carney.